About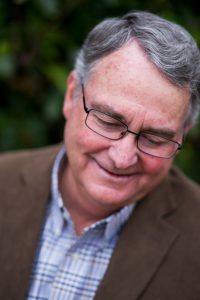 Lyman Hafen (1955-) is a native of St. George, Utah. He grew up on the southern edge of what was then a small town and as a boy developed a strong sense of place roaming the broken landscape and listening to the stories his father told.
He became a horseman on the family ranch in Clover Valley, Nevada, and was the 1973 Utah State High School Rodeo All Around Champion. He graduated from Dixie High School in 1973, and Dixie College, where he was also a member of the rodeo team, in 1977.
He served a mission for the Church of Jesus Christ of Latter-day Saints in Argentina from 1974-76.  He credits his English professor Ed Reber and his mentor Karl Brooks at Dixie College with turning his focus from riding to writing.
In 1977 the most important event in his life occurred when he married Debbie Frei of Santa Clara, Utah. Debbie has been a violin teacher and member of the Southwest Symphony since 1983.  They have six children and fourteen grandchildren.
Lyman graduated from Brigham Young University with a bachelor's degree in Communications in 1979.  Since 1980, he has been a writer, editor, publisher, and active volunteer in community, state and national organizations. He was co-founder of St. George Magazine in 1983, and was its editor for 16 years. He continues to write a monthly column for the magazine chronicling the history, culture and personality of his fast-changing hometown.
He has written twelve books of fiction and nonfiction and his writing has been honored on several occasions by the Utah Arts Council.  He has written and directed three documentary films. He was appointed by Governor Jon Huntsman to the board of directors of the Utah Arts Council. Over the years he has written numerous articles for regional and national publications, and has served as publisher of important books including Portraits of Loss – Stories of Hope, which sparked the multi-million-dollar fundraising effort for victims of the 2005 Santa Clara-Virgin River Flood.
Since 1998, he has served as executive director of Zion Natural History Association in Zion National Park.  He founded the Zion Canyon Field Institute in 2003, and the Zion National Park Foundation in 2007. He has been a member of the board of directors of the Public Lands Alliance since 2010 and served as the president of that national organization from 2012 to 2014. Lyman looks back at his time at Dixie College as a turning point in his life. The same institution where his grandfather Arthur K. Hafen taught English, German, and Spanish for more than 40 years, is the place where he discovered a love for learning and literature, and came to terms with the idea that he would spend his life telling the compelling stories of this place to the world.